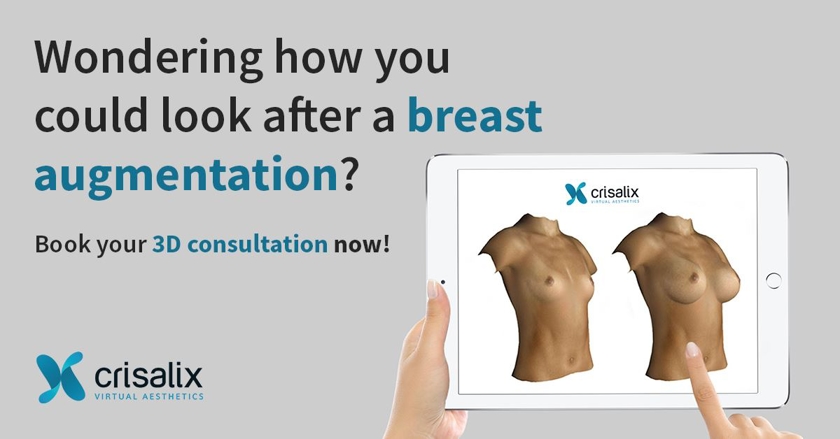 Breast Enlargement Simulator
Always wondered what you would look like with larger breasts? Our breast enlargement simulator allows you to get a look at how your body will appear before you decide to undergo plastic surgery. Try on a pair of enhanced breasts with our new Crisalix Virtual Reality 4D & 3D plastic cosmetic surgery simulator at Hurst Plastic Surgery in Tucson. To celebrate mothers everywhere, we're offering $50 off our Crisalix consultation fee for breast augmentations during the month of May.
Crisalix, a leader in online VR 4D & 3D simulation for plastic surgery, removes the guesswork for women trying to decide whether a "boob job" is right for their bodies. During a Crisalix consultation, the Hurst Plastic Surgery staff will take pictures and then show you 3D images of your breasts before and after augmentation. If you decide to undergo breast augmentation with Dr. Hurst, we'll apply the consultation fee toward the cost of surgery.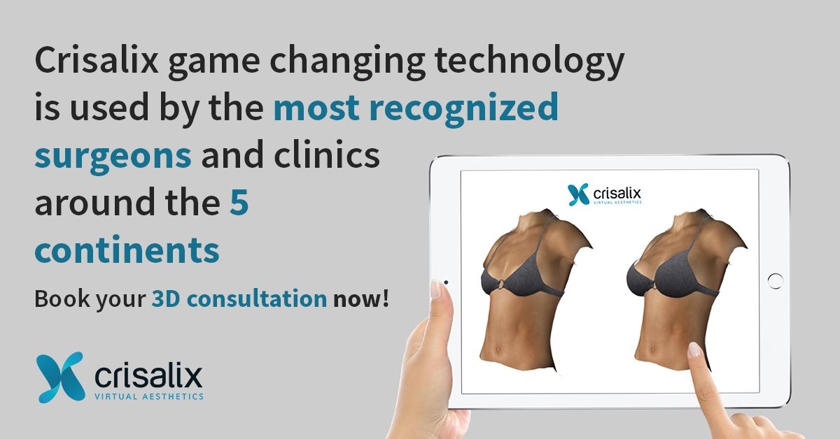 What Breast Augmentation Involves
Tucson Plastic Surgeon Dr. Craig Hurst performs breast augmentation to alter the shape of his patients' breasts, increase volume, and bring a greater balance between chest and hip size.
Breast augmentation is an outpatient procedure that leaves patients' breasts feeling swollen and sore, but only for the first week or two. You'll need to limit your lifting and physical activities for several weeks, but by week 6 you should be able to resume normal activities.
Dr. Hurst begins the breast augmentation process with a patient consultation to determine the best way to create an aesthetically pleasing breast profile for your particular body. The actual surgery involves placing implants under the pectoral muscle (submuscular) or over the pectoral muscle, beneath the existing breast tissue (submammary).
Breast augmentation and breast implant surgery are essentially the same procedure used to increase the overall size or volume of a woman's breasts. Implants can also restore fullness or enhance saggy, stretched breast tissue following pregnancy, breastfeeding or significant weight loss. The end result is perkier, fuller breasts with better symmetry.
Patients of Hurst Plastic Surgery often choose form-stable implants, commonly referred to asGummy Bear implants, for their ability to maintain shape. The Gummy Bear breast implant is a silicone shell filled with silicone gel that offers patients a more natural, teardrop-shape look.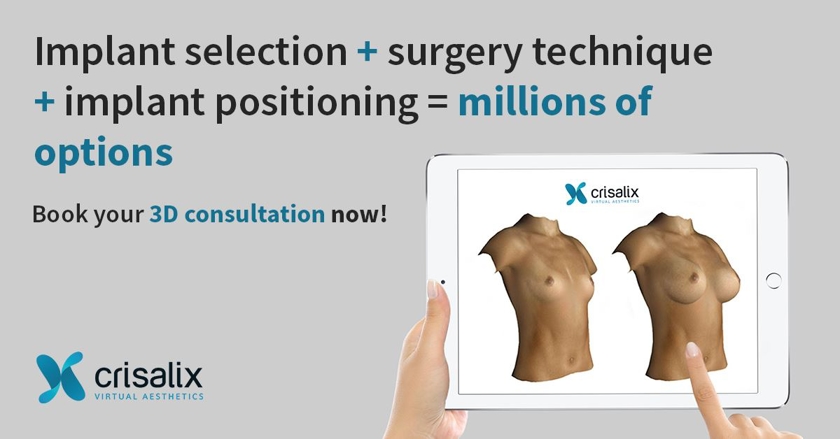 Better Results for Breast Implants
Using the unique Crisalix 3D technology, Dr. Hurst and his highly trained staff can adjust the 3D images until you're satisfied with the proposed look, increasing or decreasing the volume, cup size or shape of your breasts. Once you see bigger breasts on your own body, you may decide the breast size you envisioned needs to be slightly altered in one way or another.
Worried cosmetic surgery on your breasts will result in too dramatic of a change? Ease your concerns by seeing the images in real time and making the necessary adjustments with Dr. Hurst before the surgery.
If you want natural-looking results with breast augmentation and wish to see what you could look like with bigger breasts, call Hurst Plastic Surgery today at 520-770-8669. We're happy to answer all of your questions and address any concerns.