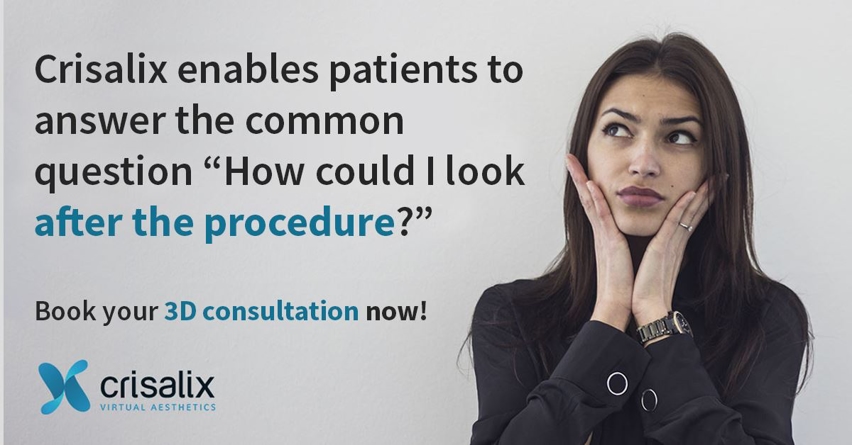 Nearly every patient who walks in the door of Hurst Plastic Surgery wants to know, "What will I look like after plastic surgery?" Now we can show you before and after images of what your face or body will look like with our new Crisalix Virtual Reality 4D & 3D plastic cosmetic surgery simulator.
The game-changing technology offered by Crisalix, a worldwide leader in online VR 4D & 3D simulation for plastic surgery, takes the guessing game out of the equation for patients trying to decide whether to undergo a plastic surgery cosmetic procedure.
During a Crisalix consultation, the Hurst Plastic Surgery staff will take three pictures of your face and body. Immediately after, you can view 3D images of yourself before a particular plastic surgery procedure and see what you would look like after plastic surgery. We can even email the images to you to reference later or share with family and friends.
How Crisalix Virtual Reality 3D Works
Using this unique online technology, Dr. Craig Hurst and his highly trained staff can make adjustments to the 3D images of whatever procedure you're interested in, whether it's rhinoplasty, full facelift, cheek implants or an eyelid lift (blepharoplasty).
For instance, maybe you're considering rhinoplasty and have a specific nose shape in mind. Once you see that particular nose on your face in the digital images, you may decide a differently shaped nose fits your face better.
Or maybe you're interested in chin augmentation or cosmetic work along your jawline, but worry plastic surgery will result in too dramatic of a change? Seeing the images in real time and making the necessary adjustments with Dr. Hurst before the surgery can ease your concerns.
Better Results, Better Customer Satisfaction
Sometimes patients decide for financial reasons not to do this or that when it comes to facelifts, and they don't receive the results they expected.
With Crisalix 3D imaging, patients of Hurst Plastic Surgery will be able to see the exact results for each procedure, where the scars will be located and how they will look after plastic surgery. According to Crisalix, patients schedule twice as many surgeries per consultation with this new tool and report 99% post-surgery satisfaction, versus a standard satisfaction rate of 80 to 85 percent.
Book a Crisalix Consultation Today!
If you want natural results and wish to see what you could look like with any plastic surgery procedure, call Hurst Plastic Surgery today at 520-770-8669. The cost for a Crisalix consultation is $100, which will be discounted from any scheduled procedure. Please plan for a full hour or more for each consultation. We can't wait to show you all of the possibilities of plastic surgery!